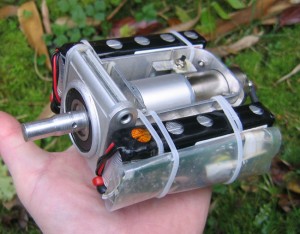 Riders of power-assisted bicycles may soon have an option to installing a drive motor on the front or rear wheel. Motorized pedals are here.
British inventor Stephen Britt has come up with a way to put the battery, and the motor, into the pedals.
According to
Bicycle Design
, Britt's electric bike pedals are one of the front-runners in a Barclay's innovation competition in the UK.
Watch video of inventor Britt making a business case for his design.
The innovative idea uses minaturized motors and lightweight rechargeable Lithium batteries embedded into the footrest of each pedal.
"As you pedal the sensors detect your effort and provide assistance," Britt explains in his initial sales pitch to the competition, "To pedal without assistance, simply flip the pedals over. They unclip and slot into a charger for charging, much like with a power tool."